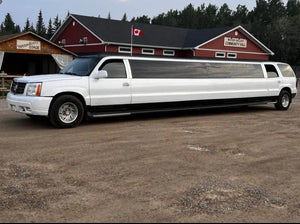 Banff Limousine Services
Banff limousine services is one of the most important things that must usually be searched by people for your journey.  
  
So if you want to know more about our services then you have gone to the right place. We are glad you dropped by to check out the latest happenings in the town of Banff; so, let's begin! 
  
About Banff Shuttle Limousine Services 
Banff Shuttle Limousine Services is a limousine and shuttle company based out of Banff, Alberta.  
  
We are dedicated to providing you with the best possible service, whether you're looking for a private limo ride or a shuttle to get you around town. 
  
Whether you need transportation for your wedding or just want to go on a weekend getaway with friends, we'll be there for you every step of the way.  
  
Our staff is friendly and knowledgeable, and we're always available if you have questions about our services or would like to make a reservation. 
  
We offer: 
  
1. Limos for weddings and special occasions 
1. Shuttles for airport transportation 
1. Funeral services (on demand) 
  
Limousine Party Buses 
There are many different types of limousine party buses.  
  
The most common type is a stretch limousine, but there are also party buses that can be used for weddings, bachelor parties, and more. 
  
Stretch Limo Party Bus: This type of bus is great for groups of friends or couples who want to travel together in a large vehicle.  
  
You can fit up to 20 people in this type of party bus. 
  
Party Bus Wedding 
A party bus wedding is a great option if you want to have your ceremony and reception in the same place.  
  
This makes it easy for your guests and family members to stay close by while still having the full experience of a traditional wedding day. 
  
Bachelor Party Bus 
If you're having trouble deciding what kind of bachelor party idea will work best for your group of friends, consider renting a hotel room with a stripper pole or getting an escort service 
  
Luxury Transportation Options 
Whether you're looking for a luxurious ride to the airport, a night on the town in Banff, or just a comfortable way to get from Banff to Calgary, our shuttle limousine services have you covered. 
  
Our fleet is stocked with only the finest vehicles, ranging from Mercedes-Benz sedans and SUVs to stretch limos and party buses.  
  
We offer free Wi-Fi on every vehicle and complimentary water or soft drinks during your trip. Our drivers are licensed professionals who are trained in customer service and safety. 
  
We also offer transportation options designed to meet specific needs: 
  
Wedding transportation  
Our wedding transportation options include everything from traditional limousines to party buses equipped with dance floors and bars. 
  
Special events  
Our special event services include airport shuttles, group shuttles, and more! 
Casino trips  
Whether it's a weekend at The Banff Springs Hotel or a night at Casino Mountain View, we'll get you there in style! 
Airport transfers  
If you need a ride from the Calgary International Airport or Edmonton International Airport to Banff or anywhere else in Alberta, we have what it takes! 
  
Professional Chauffeurs 
Our professional chauffeurs are experienced, skilled, and trained to provide you with a safe and comfortable ride.  
  
Their knowledge of the area makes them an invaluable resource for the best restaurants, hotels, shops, and scenic attractions. 
  
We offer professional chauffeurs who will take care of your transportation needs for any occasion, whether it's a business meeting or a night out on the town with friends.  
  
Our vehicles are the best in Banff, and our chauffeurs are experienced professionals who know how to get you where you need to go. 
  
There's no reason to sit in traffic when you can ride in style with us! 
  
Affordable Rates and Packages 
If you're looking for affordable shuttle limousine services in Banff, look no further!  
  
We offer a variety of packages to suit your needs, so you can rest assured that we have the perfect one for you.  
  
Whether you're planning a special event or just want to treat yourself to a ride in our luxurious vehicles, we have something that will fit your budget and meet all of your needs. 
  
24/7 Availability 
We offer 24/7 availability for our shuttle services in Banff. Our drivers will pick you up and drop you off at the airport, hotel, or your home.  
  
We have a variety of vehicles at your disposal, including sedans and SUVs.  
  
Our drivers are trained to ensure that they can get you to your destination in a safe manner.  
  
Effortless Reservation Process 
The process of reserving a shuttle service in Banff is effortless. 
  
• Simply call the number. 
• Tell the staff member on the other end of the line what you're looking for.  
• The staff member will ask you about your trip, and then provide you with a quote. 
• Once you accept their quote, they'll send over an email confirming the details of your reservation. 
• They will also provide you with instructions on how to pay them online using your debit or credit card. 
  
Summing Up 
To sum up. The Banff shuttle limousine services are becoming very popular in Banff due to their efficient transport facility and accommodating service.  
  
Limo service Banff provides its customers with luxurious vehicles and well-mannered chauffeurs. 
  
The word spread about the company as they have become the most reliable and professional limo service bank that can serve their customer's needs.  
FAQs: 
How much is a limo from Calgary to Banff? 
A limo from Calgary to Banff will cost you between $120 and $200, depending on how far in advance you book your trip.  
How much does a limo cost per hour in Canada? 
The cost of a limo will vary depending on where you are, but the average cost in Canada is around $80 per hour. 
How many people can fit in a limo? 
A typical limousine can accommodate four to six passengers, with a more spacious vehicle accommodating up to eight. 
    


---