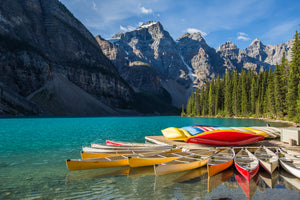 Best Tour Packages in Albert Canada
Best Tour Packages in Albert Canada
Banff, located in the heart of the Canadian Rockies, is a beautiful and picturesque town that offers visitors various outdoor activities and stunning natural scenery. 

Whether you're looking for a relaxing getaway or an adventurous vacation, Banff has something for everyone. 

In this article, we will explore some of the best tour packages in Banff that you can enjoy during your visit.
Best Tour Packages in Albert Canada
Looking for the best tour packages in Alberta, Canada? Look no further than Banff, one of the most popular destinations in the region. From Banff National Park tours to Banff Gondola rides, Banff Hot Springs, and Banff wildlife tours, there's something for everyone in this beautiful and scenic destination. 

Experience the natural wonders of Banff with these top tour packages and create unforgettable memories on your trip to Alberta.

In the remaining article, I will share the best tour packages so that you can easily get an idea about tour guides in Banff for a better experience. 

Best Tour Packages in Banff

⦁ Banff Gondola Ride:
The Banff Gondola Ride is one of the most popular tourist attractions in Banff. It takes visitors to the top of Sulphur Mountain, where they can enjoy stunning views of the surrounding mountains and valleys. 

The gondola ride takes about 8 minutes to reach the top, and once you get there, you can explore the many walking trails and observation decks. The Banff Gondola Ride is a must-do activity for anyone visiting Banff.

0. Banff National Park Tour:
Banff National Park is one of the most beautiful national parks in the world. It is home to a diverse range of wildlife and some of the most stunning natural scenery in Canada. 

A Banff National Park Tour will take you to some of the most popular spots in the park, including Lake Louise, Moraine Lake, and the Columbia Icefield. You can enjoy hiking, sightseeing, and wildlife watching during your tour.

0. Banff Hot Springs:
Banff is known for its hot springs, located at the base of Sulphur Mountain. The hot springs are a popular tourist attraction and offer visitors a chance to relax in the natural hot water while enjoying the stunning mountain views. 

You can also enjoy a spa treatment at the Banff Hot Springs and make your visit even more luxurious.

0. Banff Helicopter Tour:
If you're looking for a unique and thrilling experience in Banff, a helicopter tour is the perfect choice. 

A Banff helicopter tour will take you on a scenic flight over the Rocky Mountains, offering stunning views of the glaciers, lakes, and forests below. You can choose from a variety of tour packages, including a 20-minute, 30-minute, or 55-minute flight.

0. Banff Wildlife Tours:
Banff is home to a wide variety of wildlife, including bears, elk, deer, and moose. A Banff wildlife tour will take you on a guided tour of the national park, where you can observe the animals in their natural habitat. 

You can also learn about the ecology of the region and the efforts being made to protect the wildlife.

0. Banff Snowmobile Tours:
During the winter months, Banff transforms into a winter wonderland, offering visitors the chance to enjoy a variety of winter sports and activities. 

A Banff snowmobile tour is a popular choice, taking visitors on a thrilling ride through the snow-covered mountains. 

You can choose from a variety of tour packages, including half-day, full-day, and evening tours.

0. Banff Dog Sledding:
Another popular winter activity in Banff is dog sledding. A Banff dog sledding tour will take you on a ride through the snow-covered forests, offering a unique and exhilarating experience. You can choose from a variety of tour packages, including half-day and full-day tours.

Top Culinary Tour Packages in the Canadian Rockies
Banff is not only known for its stunning natural beauty but also for its thriving culinary scene. From farm-to-table dining to craft beer and spirits, 

Banff offers a range of food and drink experiences for foodies to indulge in. Here are some of the top culinary tour packages in the Canadian Rockies:

⦁ Banff Food Tours: 
Explore Banff's culinary scene with a guided food tour through the town's best restaurants, bars, and breweries. Sample local fare and learn about the history and culture of Banff's food scene.

0. Canadian Rockies Culinary Experience: 
This tour package offers an immersive culinary experience in the heart of Banff National Park. Enjoy a cooking class, food and wine tastings, and a farm-to-table dinner featuring local and organic ingredients.

0. Banff Craft Beer and Spirits Tour: 
Discover Banff's craft beer and spirits scene with a guided tour to the town's top breweries, distilleries, and bars. Taste local beers, spirits, and cocktails, and learn about the brewing and distilling process.

0. Cowboy Cookout: 
Take a horseback ride to a remote mountain cabin and enjoy a cowboy-style BBQ dinner cooked over an open fire. This tour package combines Banff's western heritage with a culinary adventure in a beautiful natural setting.

0. Banff Wine Tasting Tour: 
Explore the wines of the Canadian Rockies with a guided wine tasting tour through Banff's best wine bars and cellars. Taste a variety of wines from around the world and learn about the wine-making process.

Banff's culinary scene is a true reflection of the region's diverse culture and natural resources. 

Whether you're a foodie looking for a gourmet experience or simply want to explore the local fare, these culinary tour packages offer a unique and delicious way to discover the Canadian Rockies.

Factors to Consider When Choosing Tour Packages in Alberta
⦁ Budget: Determine your budget and choose a tour package that fits within it. Be sure to consider all costs including accommodation, transportation, meals, and any additional activities.
⦁ Duration: Decide how long you would like your tour to be and choose a package that fits your desired length of stay.
⦁ Activities: Consider the activities included in the package and whether they align with your interests. For example, if you enjoy outdoor adventures, look for packages that include hiking, rafting, or skiing.
⦁ Accommodation: Check the quality of the accommodation provided in the package and ensure that it meets your expectations.
⦁ Tour Operator: Research the tour operator and read reviews from previous customers to ensure that they have a good reputation for delivering high-quality tours.
⦁ Group Size: Consider the group size and whether you would prefer a smaller or larger group.
⦁ Flexibility: Check whether the tour package is flexible and allows you to make changes or additions to the itinerary.
⦁ Transportation: Consider the mode of transportation included in the package and whether it meets your needs and preferences.
⦁ Season: Consider the time of year you plan to travel and choose a package that offers activities and experiences suitable for that season.
⦁ Safety: Check the safety measures taken by the tour operator and ensure that they comply with local regulations and standards.

Final Words!
In conclusion, Banff is a beautiful and scenic destination that offers visitors an array of outdoor activities and natural wonders. 

Whether you're looking for a relaxing getaway or an adventurous vacation, Banff has something for everyone. 

The best tour packages in Banff mentioned in this article are some of the best in Banff, offering visitors a chance to explore the natural beauty of the region and create unforgettable memories. So, pack your bags and head to Banff for the trip of a lifetime.

FAQs

What is the best month to visit Banff?
The best time to visit Banff is from June to September for warm weather and long days to enjoy outdoor activities like hiking and camping. However, if you're interested in winter sports, the best time to visit is between November and March.

How many days in Banff is enough?
It is recommended to spend at least 3-4 days in Banff to experience the main attractions and outdoor activities in Banff National Park. However, the number of days needed ultimately depends on individual preferences and interests.

Is Banff expensive to visit?
Banff can be expensive to visit, especially during peak season. Accommodations, dining, and activities can be costly. However, during low season, you can easily visit Banff for $500 to $1500 but during peak season, the expected expenses are made between $1600 to $3,000.



---